le Mar 8 Oct 2013 - 22:34
Winamax Poker - Tournament "Hold'em [180 Max]" buyIn: 1,80€ + 0,20€ level: 9 - HandId: #249877263091236873-101-1381263226 - Holdem no limit (75/400/800) - 2013/10/08 20:13:46 UTC
Table: 'Hold'em [180 Max](58179084)#08' 6-max (real money) Seat #1 is the button
Seat 1: arno77390 (27377)
Seat 2: Xy-FireworK (16457)
Seat 3: ALLAN1976 (26318)
Seat 4: filouhisca (65681)
Seat 5: dan62000 (7667)
Seat 6: ogreman (34866)
ANTE/BLINDS
Xy-FireworK posts ante 75
ALLAN1976 posts ante 75
arno77390 posts ante 75
filouhisca posts ante 75
dan62000 posts ante 75
ogreman posts ante 75
Xy-FireworK posts small blind 400
ALLAN1976 posts big blind 800
Dealt to filouhisca 
[KH] [9H]
PRE-FLOP
filouhisca calls 800
dan62000 calls 800
ogreman folds
arno77390 calls 800
Xy-FireworK calls 400
ALLAN1976 checks
FLOP
[AH] [JH] [QH]
Xy-FireworK checks
ALLAN1976 checks
filouhisca bets 800
dan62000 calls 800
arno77390 folds
Xy-FireworK folds
ALLAN1976 folds
TURN
[AH] [JH] [QH] [10H]
filouhisca bets 1600
dan62000 calls 1600
RIVER
[AH] [JH] [QH] [10H] [8H]
filouhisca bets 4800
dan62000 calls 4392 and is all-in
SHOW DOWN
dan62000 shows 
[6D] [6H] (Flush Ace high)
filouhisca shows 
[KH] [9H] (Straight flush Ace)
filouhisca collected 18442 from pot
SUMMARY
Total pot 18442 | No rake
Board: 
[AH] [JH] [QH] [10H] [8H]
Seat 4: filouhisca showed 
[KH] [9H] and won 18442 with Straight flush Ace
Seat 5: dan62000 showed 
[6D] [6H] and lost with Flush Ace high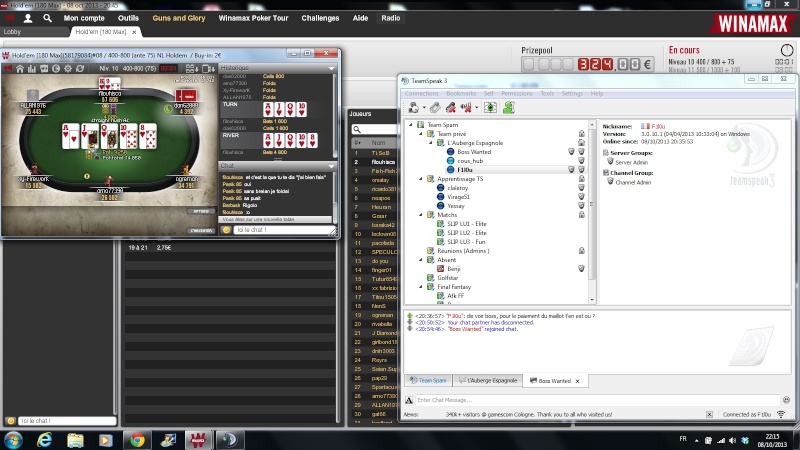 tu n'auras pas ca 2  fois dans ta vie
 
gg garde le bien en souvenir!!
le Mer 9 Oct 2013 - 12:53

Si je roule lentement c'est pour que le plaisir dure plus longtemps...

le Jeu 10 Oct 2013 - 0:03

 nice hand, encadre là, même si tu la joues bien passivement préflop (call préflop interdit au poker !).
Le mec qui suit tout avec sa paire de 6 sur AJQ, toujours aussi beau le poker 


le Lun 14 Oct 2013 - 0:36
Joli! J'ai 3 tables ouvertes en ce moment sur winamax!


Permission de ce forum:
Vous
ne pouvez pas
répondre aux sujets dans ce forum